The Graston Technique is designed to break down scar tissue and fascial restrictions to reduce inflammation and return range of motion. While there are a lot of ways to identify scar tissue and break it down, the Graston Technique is uniquely effective – which is why we utilize it in treating our patients. Using patented tools and techniques, we employ the Graston Technique to treat your soft tissue conditions so that you can heal faster and more thoroughly, and get back to living the life you love. As your Puyallup Chiropractor, we are your resource for the Graston Technique!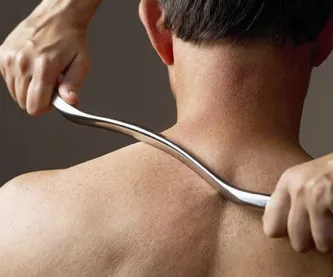 The Problem With Scar Tissue
When a person is injured, either from a trauma, repetitive stress or some other cause, it is common for the soft tissues to form scar tissue as a result. From minor sprains to major injuries, if you get hurt there is a good chance your body will create scar tissue and fascial restrictions in an effort to heal itself. Unfortunately, that scar tissue can cause real problems long after the initial injury has healed.
Scar tissue and fascial restrictions can stick around for years – even decades. It is quite possible that the pain you are feeling right now is due to scar tissue. Instead of your muscles and connective tissues moving smoothly and freely as they are designed to do, the scar tissue can inhibit soft tissue and lead to discomfort that may never go away unless the scar tissue is broken down. Fortunately, the Graston Technique offers us a proven way to identify problem areas and treat them.
How the Graston Technique Works
The Graston Technique uses a range of tools specifically designed to locate problem areas in the soft tissue and to access those areas with the necessary pressure to create change. The tools are shaped in ways that allow access to all parts of the body in the most comfortable way possible, while also being strong enough to apply the necessary pressure to break up the scar tissue and adhesions that are causing pain, discomfort and inflammation.
The Graston Technique does not have to be painful to be effective. When we use a specific tool for the problem area, we only apply as much pressure as necessary to achieve the desired outcome. While treatment can sometimes be uncomfortable, the relief that comes after makes the discomfort well worthwhile.
We Are Your Rehabilitation Team
At Rainier Sports & Spinal Rehab, we are dedicated to providing the best care we can for you and your family. We chose to become certified in the Graston Technique because it works. Used by over 17,500 clinicians around the world, including sports teams, colleges, companies and outpatient facilities, the Graston Technique lets our rehabilitation team deliver the highest quality of care in the area.
Schedule an Appointment at Rainier Sports & Spinal Rehab in Puyallup Today!
If you or a loved one have been injured or are struggling with pain, please schedule an appointment to learn about your treatment options by calling (253) 445-0440 now. Using chiropractic care, the Graston Technique and other treatments, we will do our best to help you heal and get back to doing what you love.